Modern Cubicles Houston TX
Modern Cubicles Houston TX
Modern cubicles in Houston, TX, are a progressive and elegant solution for today's open office spaces. Business goals are not easily met if your employees' productivity and innovation are not supported. Modern cubicles will provide stylish form and functionality with a modern design aesthetic to deliver value straight back to your bottom line.
Every good business wants to stand apart from its competition in some way. While you can do this by establishing a relatable brand voice and creating superior marketing materials, you also want your physical office space to reflect your ideals. When your office is warm and inviting, your employees and visitors will feel the difference. Your office furniture can help you stand out from all of your competitors who are still tied down by boring, traditional gray cubicles and furniture.
Here at Collaborative Office Interiors, we specialize in creating attractive, comfortable, and innovative office spaces. Our cubicles Houston are anything but ordinary, with their sleek, open designs and color palettes. If you have an open-concept office, we have cubicles that will fit right in. They facilitate easy and efficient communication between employees and departments and encourage transparency while still maintaining distinct desk spaces.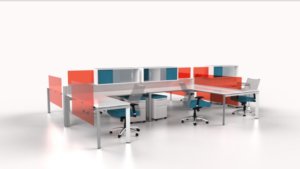 Instead of the old-fashioned, grey-paneled, boxes of old, modern cubicle features are rooted in today's office trends. Modern office cubicles have lower walls to encourage collaboration and are airy and open with glass panels to bring in the light. A beautiful working environment makes work a breeze and a beautifully-designed office will help your teams do more because it won't even feel like work. Your workspace will truly be a valuable asset because it will not only reflect your company's vision, it will help you attract and retain new employees.
You are a future-forward company. Your work environment needs to reflect the image that you want to create. Collaborative Office Interiors in Houston, TX, helps you create a visual identity with modern, contemporary, clean design that is aspirational, relatable, on-trend, high-end, and best of all – affordable. Try our budget calculator for a quick cost estimate of your project.
Collaborative Office Interiors in Houston, TX, is the only dedicated office furniture dealership in Houston that understands big things come from companies on their way up. Our mission and vision are to support tomorrow's leaders with the workspace they need at a price that delivers value right back to the bottom line. Now is the time for your office space to take your business to the next level: Call today, or stop by our new showroom at 8 Greenway Plaza, Suite 200, Houston, TX 77046 and discover how we champion success through innovative design.
Benefits of Modern Cubicles
Whether you're moving into a new office space or you're rearranging and upgrading your current space, you should put a lot of thought into your cubicles Houston needs. The type of cubicles you choose for your employees can have a big impact on their efficiency. Here are some of the benefits you and your employees will experience if you fill your office space with bright and energetic commercial office furniture instead of traditional, gray-paneled cubicles:
Improved mood
Decreased drowsiness
Improved efficiency
Great job satisfaction
In addition to these benefits, your employees are also likely to be more efficient when working in a colorful, comfortable, and fun space. You'll also have an easier time appealing to guests and establishing high energy in the office. These are all great reasons to ditch the old, boring office cubicles in favor of modern office furniture with a personality.
Versatility and Comfort
Our cubicles Houston are designed to provide both versatility and comfort in modern office spaces. We have a wide variety of styles from which you can choose, including:
If you aren't sure which of these many attractive options is right for you, don't worry. We'll help analyze your functional, space, and design preferences and help match you up with a cubicle system that is the perfect fit for your office.
See Our Modern Cubicle & Bench Desking Collection
Select Your Perfect Cubicle Fit
Why settle for old-fashioned cubicle systems that are bulky and don't fit well in open-concept offices? With help from Collaborative Office Interiors, you can switch out your unwanted cubicles with highly attractive, innovative cubicle systems that enhance workplace efficiency and boost employee morale.
We want to help you take your office space to the next level and prove to your customers that you are typifying modernization and cutting-edge appeal. Contact us today through our convenient online form to request your complimentary consultation. Once we receive your contact information, we'll get in touch with you as soon as we can.