At Collaborative Office Interiors, we focus on helping companies the most user-friendly, efficient, and comfortable office furniture Houston. We love getting to know business owners and office managers around Missouri City. When you call us, know that we will help you focus on your needs from the start and get you the best deals on office furniture that we can!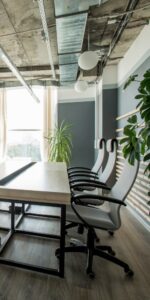 As part of the Missouri City, Texas community, we pride ourselves on helping as many businesses as we can. There are hundreds of companies around, and each has its impact on the economy of Missouri City and the surrounding cities of Sugar Land and Fresno, Texas. When businesses want to relocate to Missouri City, our city even provides incentives so that the community gets access to some of the best commercial opportunities in the state.
Some of the services we offer to Missouri City businesses include:
Find Out What Our Missouri City Clients Have To Say About Our Office Furniture
"These folks are top-notch. The customer service provided by Dustin Lane left a lasting impression on me. They work with every budget and went out of their way to accommodate my many requests, timelines, etc.! They even have a design team that make recommendations for your space free of charge. And they offered to deliver temporary furniture in the event the custom pieces didn't arrive in time. Highly recommend!" – Jayne Thomas
"Feel confident you are going with the BEST if you choose Collaborative Office Interiors! They are professional, answer all questions in a prompt manner and know what they are doing!" – Jackie Horn
Services That We Offer in the Missouri City Area
Collaborative Office Interiors offers many specialized types of office furnishings to businesses all around the Missouri City area. We love helping our clients bring their ideas to life using our furnishings and experience. Our goal is to help each business we serve to create the ideal office environment for both clients and employees.
Workspace Seating
We focus on providing comfortable and ergonomic workspace seating to feel relaxed and stay focused when working in Missouri City, TX. Many health effects can come from poor posture or uncomfortable chairs. We want people to know that they can have both beautiful and comfortable office furniture.
Conference Room Furnishings
Your conference room says a lot about your business. Whenever a client comes into your conference room, you want them to know your company is among the elite. By contacting us to help with conference room furnishings, you get the furniture you love while showing that your Missouri City, TX business is ready to take on whatever they need.
Office Soundproofing
Office soundproofing your Missouri City, TX office can help with many aspects of your business. It helps keep information secure, allows your creative teams to get animated without disturbing others, and it allows you to carry on several meetings at the same time without any noise carrying over. Want to see what we have to offer? Then give us a call!
Workstations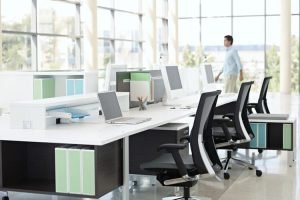 Each of your Missouri City, TX workstations needs to have the right setup. It would be best if you had your computers set up, so they are ergonomic. Your employees need comfortable chairs, and you may even need partitions to create cubicles to work efficiently. We can help with all of these. All you need to do is reach out, and we can take it from there!
Frequently Asked Questions About Office Furniture in Missouri City, TX
Are you looking for answers to some FAQs about office furniture in Missouri City, TX? Then you have come to the right place. We have a few common questions we get from businesses in this area. Let us cover some of them so you can get an idea of how we can help your business, too.
Do Collaborative Office Interiors work with different sized budgets?
Of course, we do! We love working with all sizes of businesses in Missouri City, TX, and the surrounding areas. Whether you need a single workstation or you need a fully soundproofed office, we can help!